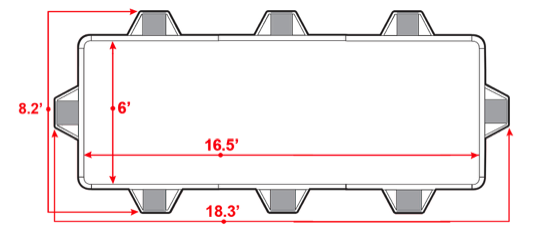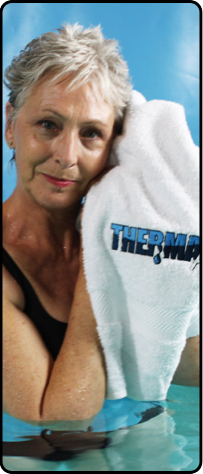 Click for a PDF Brochure >>
60" Upgrade $1200: Standard pool wall depth is 54", this upgrade increases the pool wall to 60". The package includes the necessary extenders for the ladder or steps to work accordingly. This depth increase creates about a 55" water depth (on average).
Extra Cartridge Element $80: Your ThermaPool package uses easy-to-clean and durable polyester cartridge elements for filtering the water. A single element can last up to a year. Some custoemrs enjoy the convenience of having an extra one on hand. Click for More Details >>
ThermaCare Kit $150: This is a standard pool cleaning care kit for maintaining your pool. Components are based on safe use with your ThermaPool. Kit includes: vacuum hose, vacuum head, hose adapter, 2n1 tester kit, telescopic pole and thermometer. Click for More Details >>
ThermaBand® $150: Our most versatile exercise piece of equipment. Designed to take advantage of the three levels of grommets inside your ThermaPool, this item allows you to exercise virtually every part of your body. An excellent addition to your order.
ThermaCord® $200: Just like the ThermaBand, the ThermaCord allows you to work ther arms and shoulders individually. Similar to standard handheld pulls used at physical therapy centers, modified to work withint the body of deep warm water.
Underwater Treadmill $1,295: Just as the name implies, the underwater treadmill is a gravity based treadmill for walking and running in place. Non-electrical, works with your speed so you control the motion by which you walk or run.
Change the Color $200: The standard default color choice is Dark Blue exterior with an all white interior. Pool cover is also white. Whe you choose this option, detail the colors you want for the exterior, interior and pool cover (if different).
Access Systems Available for Your ThermaPool: There are many choices for you to consider when choosing the access for your pool. We offer six (6) different options based on location of the pool, the pool set up as well as the needs of the user. Be sure to click on the details before ordering. The default choice is the A-Frame Ladder. If you wish to change the ladder for one of the other options, click the green button to add to your cart.



Sale Ends Midnight 1/31/2016