An Indoor Swimming Pool: These days it is getting harder and harder to find a place to swim without finding yourself in someone elsefs bath water (yuck!). Or worse, some of these community places are so heavily chlorinated as to create real concern for the userfs health. Swimming should not be a detriment to your health - especially when most of the time it is doctor prescribed. ThermaPool understands that and makes it easy to swim daily in the privacy of your own home - in warm and soothing water.
Costs Less to Operate: Unlike swim spas that use tremendous amounts of electricity to create a powerful swim jet that you swim against, which eventually pushes you in the direction of your weakest arm until you hit the wall - a ThermaPool uses a comfortable swimming harness that holds you in the center of your pool. This harness does not pinch or bind on your waist, simply grips you comfortably and holds you in the center of the pool. The harness does not interfere with any swim stroke.
A More Affordable Swimming Option: It is neither practical nor even possible, to have a swimming pool year round in most homes these days. In some areas, restrictions are being placed on the very thought of doing that. This is where the ThermaPool excels. For within the very small body of warm and soothing water, you are able to swim continuously without any interruption. Our comfortable swimming harness better mimics natural lap swimming in that you do not have to stop to adjust anything when you swim. Swim fast, slow, change strokes, even flip yourself over and swim on your back mid-stroke. And it costs nothing additional to operate.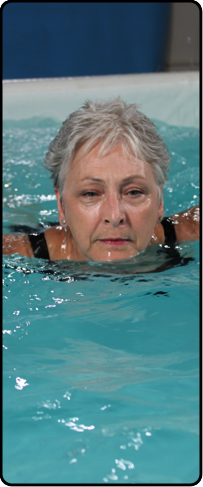 Of course, with our pools, swimming is only a very small part of what our customers have discovered about the value of deep warm water. Learn More about Water Exercise >>>
There is an endless opportunity to feel better with daily access to deep warm water in the privacy of your own home. And with a ThermaPool, you can enjoy all of that for as little as $100/mo (oac). Call us toll-free at (855) 476-6572.